Candolim Beach Goa
Candolim Beach Goa is counted the loveliest spot for honeymoon couples,friends or families in Goa Tourism. The shadow of Baga and Calangute beaches of Goa, is the Candolim Beach Goa. Endoresed by a crest of dunes and lapped by the Arabin Ocean.
It is just 14 Km away from north of Panaji. The white sand beach of Candolim normally by the scrub-covered dunes and draws a large number of travel from all across the world to enjoy goa tour packages. The road is fully packed with shops and restaurants, of Candolim beach.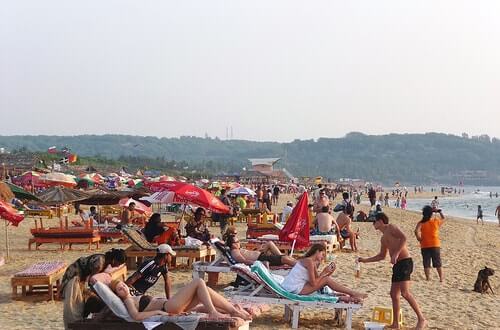 The beach from the front has plenty of water-skiing,parasailing,bump rides, jet-skiing,catamaran sailing, banana ride and wind surfing. From all these fishing can also be done with the peaceful environment. You can have a huge variety of seafood, cuisines cooked and a lot more to eat .
In Goan style handicrafts items and casual garments and what you like you can get it. You can do water sports activities on the Candolim Beach like jet skiing bump – rides, banana rides and catamaran sailing, parasailing, water skiing, wind – surfing and other water sports also.
Candolim nightlife is one of the sunset. Oiscos and clubs like Sin Q, Shiro Night Clubs, Club LPK – Love Passion Karma, Paraos. These are the best place to listen to some chip hop and rock type Dj's music.
Place has significance as many historic events started from this point. First revolution against Portuguese started from this beach. People also believe that father Abbe Feria was born here. Most people comming from North India visit this beach for its adventure and water sports in Goa .
Please follow and like us: