Anjuna Beach Goa
Anjuna Beach Goa is a perfect place for beach lovers in Goa Tourism which is 8 Km away in the west of Mapusa town, the beach is blessed with bizarre array of red late-rite rocks. The beautiful embellished with picturesque sceneries and the place is reckoned the hottest tourist destination of India.
The rocky view give a great pleasure to be at Anjuna Beach. The format of how the rocks are placed on a small in let. White sand and black rock protruding into the sea. Its an ideal beach of Goa for nature buffs, who love to enjoy full moon parties during the New Year and Christmas.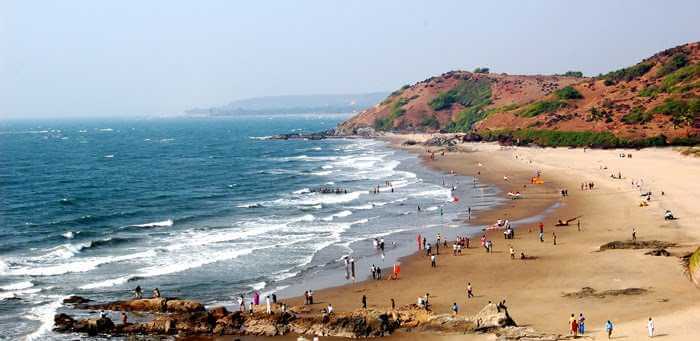 If you want to experience the real beauty of landscapes, luxury accommodation, seclusion, night life parties reliable seafood dainties and voguish shopping opportunities, plan for a holiday at Anjuna Beach and make it possible . Anjuna Beach Goa gives you the luxury accommodation option with first class facilities.
You can enjoy the sea waters, at Anjuna beach the perfect place for vacationing. One can do the sports activities like surfing, scuba diving, parasailing, paragliding. You can visit the Wednesday Flea Market, Mascarenhas Mansion its an amusement place near Anjuna Beach Goa.
Anjuna Beach Goa brings dance, music along and come into limelight dazzling trance parties due to Hipppies. It has moonlight parties, cultural delights and exotic fire shows. Dj is arranged specially on Christmas and New Year Eve, Dj's are arranged with the strip you can have drinks, dining and dancing, favorite music and exciting night life enters at Anjuna. All these happens after the sunset.
The famous Acid house party that waves. Clasp many tourist enjoy full moon trance parties it is one of the best place for merriment, fun and frolic.
Conclusion : Tourist coming to Goa for Goa Tour Package can enjoy at Anjuna Beach.
Please follow and like us: