Shimla Himachal Tourism
Shimla Himachal Tourism – About

City is the capital and biggest major city of the northern Indian state of Himachal Pradesh. And the Shimla is also known as Simla. Shimla is also a district which is bounded by Kinnour in the east, Kullu and Manali in the north, state of Uttareakhand in the south – east, Sirmpur and Solan. The Shimla was declared as the summer capital of British India north east of Rawalpindi in 1864. And the city become the capital of Punjab and was after named the capital of Himachal Pradesh state after Independence. The Shimla is center of the hilly regions of the Himachal Pradesh state of India.
Summer capital Shimla hosted most important meetings of political, 'Including the Shimla conference of 1945. And Shimla Accord of 1914. The existing Mahasu district was named Shimla after re – formation of Himachal Pradesh state of India.Its name is received from the goddess Devi Shyamala an incarnation of the hindu goddess Kali.
Shimla is largest city, along with Shimla is one such place that attract people from all over the world. Because Shimla is the major famous tourist place. And the Shimla is mostly famous for many things and places like Templs, Building, Railway, Road, Hill, Museum, Church, Nature Park, Sanctuary, Palace, Falls, view point and Zoo etc.
Main attraction of Shimla Himachal Tourism or Shimla Tour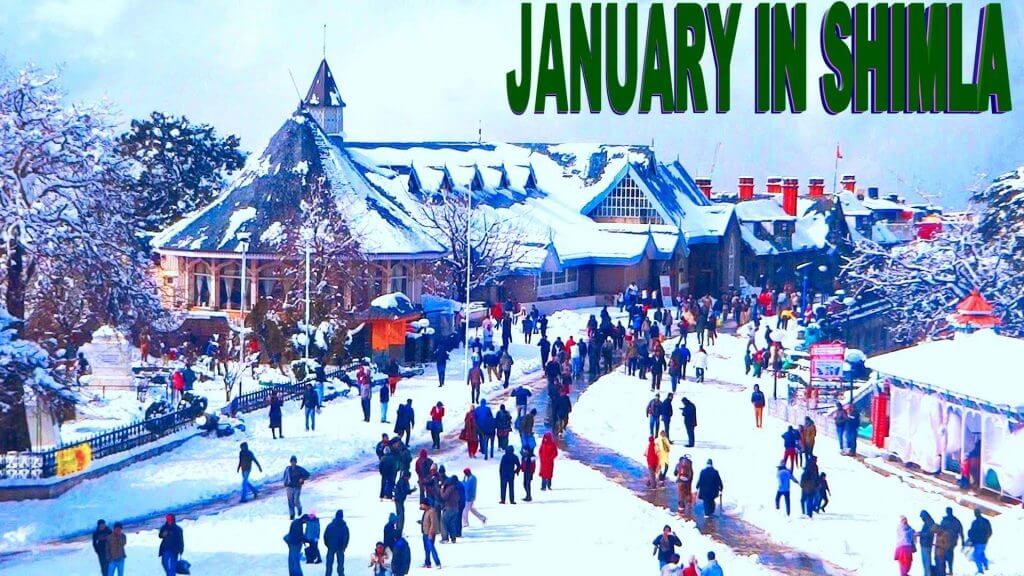 The Name of major attractive destination of beautiful Shimla largest city of Himachal Pradesh state of India is given blow :
Shimla is most famous for many places like temples, buildings, road, railway, hill, museum, church, nature park, palace, sanctuary, view point, zoo and falls etc and here we will tell about some places of Shimla largest beautiful city of Himachal Pradesh state of India.
1. Mall Road
The Mall Road is the main street in Shimla and the Mall Road is the most active area of Shimla Himachal Tourism. The Mall Road was built by the British during the colonial rule in India. And the mall road was constructed protecting in mind the transport in this Mall Road. On the Mall road only cycle rickshaws were allowed and the Mall road is the very attractive and famous place in the Shimla.
2. Jakhoo Temple Shimla
This is the very old temple located in the Shimla and the Jakhoo Temple is dedicated to hindu Monkey God Hanuman Ji. The temple is situated on the Jakhoo Hill which is 2.5 kilometers from the east ridge in Shimla and the height of 8000 feet above the sea level. Jakhoo temple is very famous temple in Shimla and many tourists come here to visit.
3. Tara Devi Temple
The Tara Devi Templ is around 12 kilometers from Shimla and the temple is surrounded by the green environment and it is located on the peak of a hill. The Tara Devi Temple is the historic place and the history of this temple is around 250 year ago. This temple is dedicated to Goddess Tara. And Goddess Tara is also known as the goddess of protection. The temple is situated near Kalka – Shimla highway. And many tourist come here to visit.
4. Kalka – Shimla Railway
The Kalka – Shimla railway was built in the year of 1898 and this railway built for connect Shimla. This track famous for traveling a majorly mountainous track from Kalka to Shimla Railway. Its special holidays trains are also run during the holidays. And the Kalka to Shimla railway trains journey is a unique experience.
5. Rashtrapati Niwas
The Rashtrapati Niwas is very beautiful and huge building in Shimla and it is beautiful museum which taught or give a real image that how the Britishers ruled in India that time and Rashtrapati niwas is known for it is same as school of Harry Potter movie that's way people most attract to come here in Shimla Himachal Tourism.
6. Himalayan Nature Park
The Himalayan Nature Park is rich in Himalayan flora and fauna and the park was a Musk Deer Farm in its starting days and the central zoo authority India recognized park as the Himalayan nature park in the year of 1996. For nature lover people the Himalayan nature park is like a paradise and many people come here to enjoy and visit.
Apart from these there is also many destination for visit, Which is Summer Hill, The Ridge, Johnnie's Wax Museum. Himachal State Museum, Shimla Heritage Museum. Baba Balku Rail Museum, Shimla Glen, Army Heritage Museum, Kali Bari Temple, Christ Church Shimla, Kurfi Fun World, Chail Sanctuary and Palace. Sankat Mochan Temple, Gorton Castle, Kamna Devi Temple, Chadwick Falls, Bantony Castle, Cathedral and Church. Hawa Ghar, Hanuman Statue, Daulat singh Park, Vaishno Devi Temple, Rani Jhansi Park. Water Catchment Sanctuary, Green valley, Chini Bangla, View Point, Dhingu Mandir, Ram Mandir, and Archaeological survey of India.
These all places in largest city of Shimla's sightseeing destination.
How to Reach Shimla Himachal Tourism
By Road
By road Shimla is well connected network to all major cities in north India. And to all most towns and district headquarters within the state with NH22. Shimla's nearest big city is Chandigarh.
By Air
Shimla's nearest airport station is Chandigarh Airport. Its about 116 kilometers to the Shimla capital of Himachal Pradesh state of Indian country.
By Rail
By rail Shimla's nearest railway station is Kalka Railway station. It is well connected to major big city Delhi and Chandigarh by regular trains. You can take Kalka shatbdi which goes from India's capital big city new Delhi to Kalka via Chandigarh.
Please follow and like us: