Calangute Beach Goa
In Goa Tourism if you want the answer of where is Heaven Your answer is Calangute Beach Goa is your way to heaven. The spectacular beauty and charm with fantastic night life on the ocean paradise is just can be seen at Calangute Beach Goa.
It has a lot of palm and coconut trees, it is spread four miles along the Arabian Sea and nine miles from the Panaji. Thee charm on the beach is the multiplex like the exotic jewels hanging from the store fronts, local's warmth, or the orpic sea-breezes that gives imminent adventure. Because of its incredible beauty & serenity it is known as the 'Queen of Beaches". The top ten bathing beaches it is one of the among.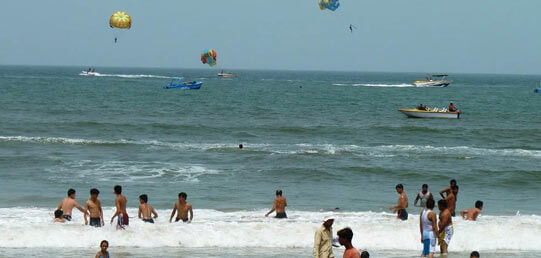 It is always crowded during day or night with tourists and locals. It is the perfect tourists retreat, filled with souvenir stalls,shacks and other stalls selling from beer, trinkets to pawns. All these things make it a must visit place.
It has exquisites handicraft from tibet showrooms with Kashmir, Rajasthan, Indonesia and other striking places. Goa beaches has cultured and assured splendid time with loved ones can be spent. You can do water sports activities like Parasailing, Sandy pleasure Spotting Dolphin and Crocodile beside visiting island.
These beach is more vibrant and lively when the sun goes down and the city wake's up in the sky. The beach light as the city with cultural, music and dance shows. Parties and drinks are the main attractions of beach that draws a large number of traveler all across the world.
Conclusion : Calangute Beach Goa is best beach for those coming to goa tour package
Please follow and like us: