How To Reach Goa
Holiday in India on a beach, if you are discussing then surely Goa is ideal for you. Its a tiny state in between Maharashtra and Karnataka, overlooking the Arabian Sea is graced with some of the India's best beaches the draw in tourists from distant parts of the country. Now there is a point to note.
When we speak about How to reach Goa, How to reach Goa or Panaji or How to reach Vasco Da Gama? One can hope the chromatic hues en route Panji and Vasco Da Gama that
Goa Tourism
host an International Airport and a Railway Station respectively connecting parts of the world and country itself.
Roadways that connects Goa to Mumbai, that is approximately 610 km, Pune that is 460 km and Kolhapur that is approximately 230 km. One who is planing by road from Bangalore has to state highways 34 followed by National Highway 4 A and pelt along the state highway 7. The approximate distance from Bangalore to Goa 560 km and it takes more or less 9 long hours. When Goa tourism is a grapevine among the tourist, then how to reach Goa is not a big fuss. Goa the Madgaon Railway Station, Vasco Da Gama railway station and Thivim railway station. Goa by train is also well knitted by broad gauge railway that connects the state with major cities in India.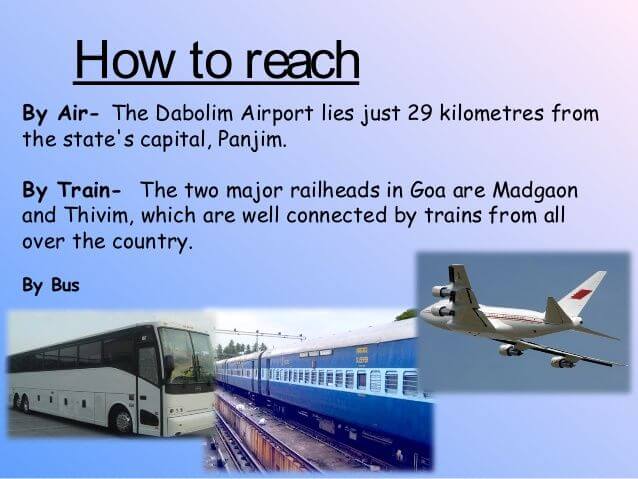 Reaching Goa By Air
Goa by Airways the nearest international airport is located at Dabolim. Dabolim main airport is situated at a distance of almost 29 km away from Panaji. This international airport is well connected with the major domestic cities. And with international cities in U.K. and Germany as well.
Reaching Goa By Train
Goa by railways quite easy to reach Goa as the major railway station is located in Margo. The main railway station is known as Madgaon and Vasco Daa Gama. These are well linked with Mumbai an then other major pats of the country as well.
Conclusion: One can Enjoy
Goa Tour Package
by reaching goa by Train , rail or by air as per his choice
Please follow and like us: