Best Time To Visit Goa
We consider the best time to visit
Goa Tourism
is November To February that time weather is perfect not very hot, nor Cold and by that time almost all the beaches shacks are open. Water sports like banana ride, jet ski, parasailing etc, are open for tourist during these months on almost all
Goa beaches
. Many music and dance festivals including the sunburn festival including happen in December and January. If you want to be the part of it and looking for fun party time, this is the time to be in Goa. Goa is considered the best place in India to enjoy Christmas and New Year as Goa is full of festivity.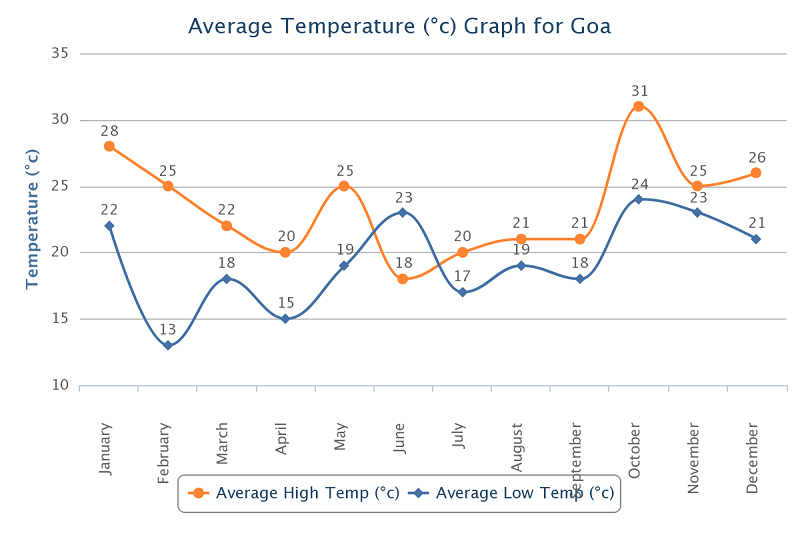 Summer Time to Visit Goa (March – June) This time is not Ideal to visit Goa. But the only advantage of visiting Goa in this off-season are cheaper accommodation and rates of food,booze,travel and absence of crowd ad rush. These months are less crowded,noisy and traffic jams. allowing one to enjoy the lush greenery and clean backwaters.
Monsoon Time to Visit Goa (July – September) These months to visit Goa is dampener. By this time you can enjoy the trek to Dudhsagar Falls and see it in its best form. The price in these time take a dip so by these season visiting Goa will be cheaper.
Winter Time to Visit Goa (November – February) In the month of October it starts chilling a bit the atmosphere is not much cold just a bit. The winter starts fro November. Because the proximity to the Arabian Sea, the winters are not so chilling, the temperature in winters are around 20-22 degrees celsius. These months are the perfect time to visit Goa and get relaxed as in December the Christmas festival is there and the New Years Parties.
Conclusion: Goa tour packages are best to enjoy in Winter season .
Please follow and like us: